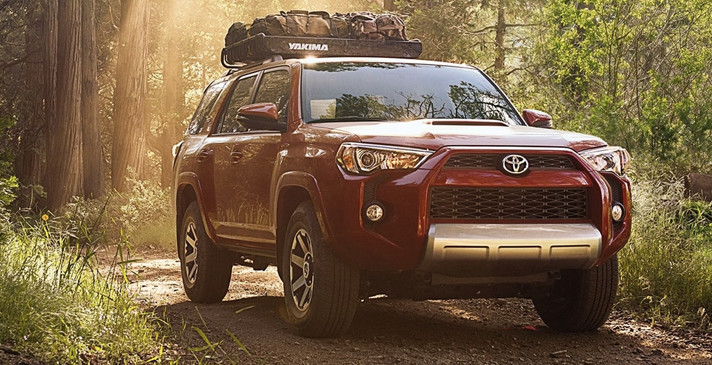 2018 Toyota 4Runner

2018 Ford Explorer
Comparison Overview
Choosing between the many different SUV makes and models available on the market today can be daunting. Here at Toyota of Alvin, we're always looking for ways to make things easier for our clients. That's why today we're comparing the 2018 Toyota 4Runner to the 2018 Ford Explorer. First of all, both of these SUVs can fit up to seven with available third row options. Both have hefty V6 engines and comparable horsepower. Even though these specs are similar, let's talk about some key differences between 4Runner and Explorer.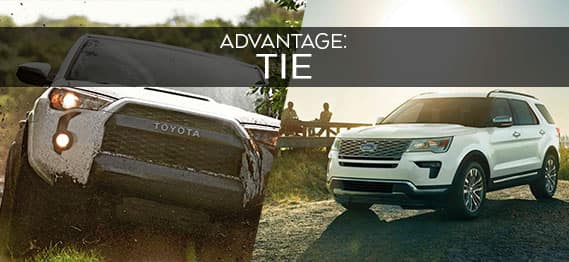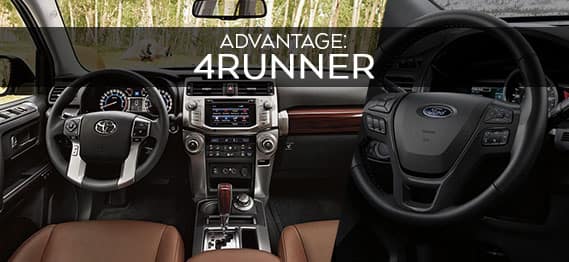 Comparison: Interior
Notice that the 4Runner has a 88.8 cubic feet of interior cargo space versus only 81.8 for the Ford Explorer. If you have a growing family, or you use your vehicle to take longer trips, you might want to consider 4Runner's large cargo capacity. Did you know that every 4Runner has an 8-way power adjustable driver's seat with lumbar support? That's sure to come in handy during lengthy travels. Many drivers today also rely on their onboard instrument screens. 4Runner has a large, 6.1 inch high resolution display and technology that makes the vehicle's gauges simple to read at any time of the day.
Comparison Exterior
We like the clean contemporary lines of both the 4Runner and the Explorer. Both SUVS had a redesign to their exterior this year. Whether you like 4Runner's boldly angular front grille or Explorer's more geometric look is mostly a matter of personal preference. However, 4Runner pulls ahead in some significant ways. For example, take 4Runner's projector beam headlights, which provide a stronger more focused beam than conventional headlights. If you like heading off road, the all wheel drive system offered by Toyota has superior active traction features like A-TRAC and KDSS/CRAWL.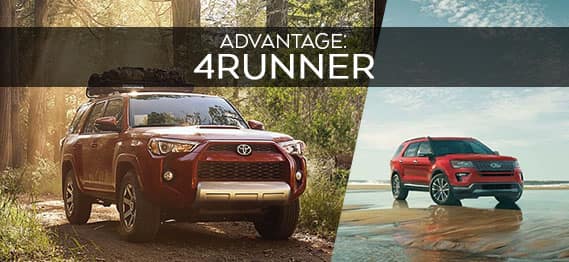 Toyota of Alvin
Whether you're interested in a brand new Toyota, or a used model from another brand, Toyota of Alvin has you covered! We have an extensive dealer inventory that includes many different Toyota models and model years. Toyota's vehicles are very durable so you can drive with confidence knowing even an older model will be exceptionally reliable. Our dealership is conveniently located to serve the people of the greater Houston metro-area including Pasadena, Pearland, Friendswood, and League City. If you're ready to give the new 2018 Toyota 4Runner a try, just head over to Toyota of Alvin Today. The 2018 4Runner is on sale now, with a starting price of just $34,610.
Toyota 4Runner
Ford Explorer
Engine
4.0-Liter V6 Engine
3.5L Ti-VCT V6
Horsepower
270
290
MPG
17 City
21 Highway
17 City
24 Highway
Cargo Volume (with 2nd and 3rd Row Seats Folded)
88.8 cubic feet
81.7 cubic feet
Base Price
$34,610
$32,140
We appreciate your interest in our inventory, and apologize we do not have model details displaying on the website at this time. Please fill the form out below and our team will quickly respond, or, please call us at 281-205-8217 for more information.
Vehicle Finder Service